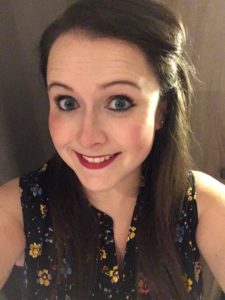 Ever wondered what a lighting designer does at an event? We sat down with Anna, a freelance Lighting Designer, who enlightened us to daily life as a Lighting designer in the events industry…
First and foremost, what is your name and job title at FCC?
Hi I'm Anna. My official job title is freelance Lighting Designer. That means that First Call Crew call me when they have an event or show that requires someone with specialist lighting knowledge and a creative eye.
What exactly is a Lighting Designer?
In a nutshell, a Lighting Designer is the person who decides what the lighting looks like for any given show or event. It involves working artistically with the rest of the creative team (director, set designer, sound designer etc) to create the show. With that many creatives involved, you won't be surprised to hear that this often involves some mixed opinions and compromises! It involves looking at the lighting in an artistic, functional and practical manner.
Tell us a bit about yourself.
I learned most of what I know through working in the industry, and have worked on some pretty interesting projects over the years. My career started at Butlins in Skegness where I worked as a 'follow spot operator', illuminating people on stage during the shows.. This was a great first job and gave me the taste for lighting. I then worked on cruise ships for two years doing the same sort of job but more advanced. After that I worked for several years in commercial theatre on large scale tours and projects such as Hairspray, Chitty Chitty Bang Bang and Secret Cinema. I have been working more creatively within the industry for the last couple of years working in more of a design capacity than technical.
So what does a typical day at an event look like for you?
This varies hugely depending on the scale of the event in question and the job itself.. A small scale event tends to be much more hands-on, as budgets are typically much smaller. It might just be one person to build a rig, program the show, operate the show and then take it all down again. On a larger scale project there would be a whole team of people. A group of production electricians would install the show (this sometimes takes weeks or even months!), there would be lighting operators, programmers and also designers. So in this scenario, my role would be to oversee the rig going up, call the focus of generic lighting fixtures and then work with the programmer to plot the show into the desk.
What kind of projects have you worked on at FCC?
I worked with First Call Crew on Sara Pascoe's show Lads Lads Lads at the Wyndham's Theatre in London. They provided a whole package on this project which included production management, designers, show operators and crew for the fit up and get out. I headed up the entire lighting side of the operation so I designed and programmed the show, and also oversaw the technical side of getting the show up and running.
How much planning goes into the lighting at an event like Lads Lads Lads?
On this particular show the planning was separated into two parts; the creative side and the technical side. The creative side involved designing a rig to not only light the show but to also look aesthetically pleasing to the audience. This show had no set so we knew from the start that we wanted to create something quite spectacular with the lighting to give the whole thing some presence. Once I had decided on the look of the show, I had to speak with the hiring company to see if what I wanted was even in budget! It is then a case of working out the amount of cable required to power and control the rig. This section involves some maths to make sure that the rig is not only going to function correctly, but is also electrically safe. Once all the plans are in place and everything is ordered it's a matter of keeping your fingers crossed that all the calculations are correct and everything turns up on the day to create a show!
Does your job involve a lot of travel?
Yes it does – wherever there is theatre, an event or a concert, we go! I don't do quite as much travelling in my job now as it involves a lot more work at home and a good 50% of my work is London based. Obviously when I worked on cruise liners, I did a lot of travelling and was lucky enough to work on ships in Europe, North America and Asia. In recent years work has taken me all over the UK, and earlier on in the year I spent a week in South Korea getting The Wedding Singer up and running for an arts festival over there.
Which are the most memorable events that you've worked on, and why?
Working on Sara Pascoe's show was a highlight as it was the first time I had lit a show in a West End theatre. I was also fortunate enough to work on Emilia at the Vaudeville Theatre as Associate Lighting Designer too. This was a great moment for me, as it was an entirely female cast and creatives, naturally supported by some of First Call Crew's finest for the fit up! In a technical capacity, my the job I am most proud of was working as Chief Electrician for Secret Cinema on their production of Moulin Rouge. This was by far the largest scale project I had ever worked on at the time and it was a huge, yet very rewarding challenge.
What would be your best tip for anyone reading this who is considering a career as a lighting technician?
Work hard and get as much experience as you can. Try to pick up as many little jobs as you can and meet lots of people. Skills you learn out on site are invaluable in this field. It's a very small industry so people who are enthusiastic, proactive, friendly and keen to learn will always be remembered. Fortunately for budding lighting technicians out there you don't necessarily need a qualification to progress so don't be put off if you can't afford to study.
Finally, tell us a random fact about lighting at an event.
To change the colour of a generic light a gel is used. This is made of heat resistant polycarbonate or polyester. The original name however could date back as early as Shakespearean theatre when gels were made with a gelatin base.

The name of Abba's song Super Trooper actually refers to a type followspot. Although now quite outdated these lights can still be found in some theatres!
Thank you for the insight, Anna!