THEATRE
Theatre is very close to our hearts. With experience within large scale regional Theatre's such as The Birmingham Hippodrome and working in multiple West End venues such as The Dominion Theatre, our hand-picked theatre technicians really know their stuff. Ready and waiting with the right tools for the job, each dedicated theatre stage crew member is prepared to work until the job is done. From mark-out to curtain-up, our theatre production crew have the right skills across all departments to ensure a seamless transition from venue to venue.
WE PROVIDE THE BEST
Treating every project like it's our own production, we go above and beyond to support you until the last truck doors have closed. Catering to your specific requirements we only work with the very best people to deliver the job.   From stage, lighting, AV and sound technicians to riggers and carpenters, your project is safe in our reliable and capable hands.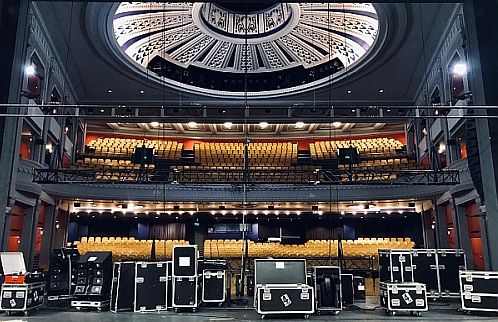 We've called upon the services of First Call Crew on various occasions and they've always supplied excellent technicians whether our requirements have been for Lighting, Sound, Stage or Rigging. Their crew are all qualified in their specific fields and bring with them a wealth of knowledge and experience.
John Buckle
Technical Manager – Liverpool Empire ATG
This was by far the biggest and hardest project we have delivered on the beach over the last few years and the heat didn't help matters with record temperatures of 30+ degrees! The guys' attitude and commitment to get the project done on time through the heat, problems and just sheer size of it was amazing!
Dan Bell
Project Manager – Stage One
I have used First Call Crew on various productions this year to provide both production carpenters and general crew. They have always provided professional, skilled and willing individuals. They are flexible regarding late changes and moving goalposts that production managers so often have to contend with.
Lloyd Thomas
Production Manager
"The biggest difference between First Call and the 'others' is the ability of their teams to take a brief and just get on with it. First Call are without a doubt an extension of our own team and critical to the success of our projects when the show really must go on…"
Rob Haworth
Production Manager – Entourage Live
"First Call Crew are my 'go to' people on all my projects - currently PETER PAN - THE ARENA SPECTACULAR at Birmingham and Wembley Arenas - Oli and his team are fast, responsive, reliable and work on each project with all the enthusiasm and skill you could wish for."
Jon Conway
Producer
"First call crew have been a great asset to me and our team over the years. No matter how big or how small the job may be they always strive to accommodate, even with last minute changes that always arise, they are supportive and adaptable."
Lil Dickson
Lyric Hammersmith Theatre
"We worked with First Call Crew on the re-opening of the Hat Factory, they worked incredibly well with the team and remained professional throughout. It is fair to say that we wouldn't have had the re-opening success we had without them."
Richard Clinton
Luton Culture
"We've worked with First Call at Silverstone for a number of years now, they are a reliable, flexible, skilled and considered solution. The team on site becoming an extension of our construction teams and are an essential local resource."
Dan Cameron
TBA